Critical Thinking is basically CAREFUL thinking.
More specifically, it is thinking in which a person continually strives to conform his or her thinking to the universal standards of thinking, which include the following:
Clarity
Accuracy & Precision
Relevance & Significance
Logicalness
Breadth (understanding alternative points of view)
Depth (understanding the complexity of the issues)
Sufficiency (of available evidence to allow for reasonable conclusions)
Fairness
Careful argument evaluation is the heart and soul of critical thinking. But one cannot do a careful job of evaluating an argument unless one first has a clear understanding of the argument one is trying to evaluate. Thus, careful argument analysis is essential to critical thinking. In order to be a critical thinker, one must develop the knowledge, skills, abilities, and desire to carefully analyze and clarify arguments.
I will be making a presentation for the 43rd Annual International Conference on Critical Thinking. The subject of my presentation is: "How to Do Careful Argument Analysis". The presentation will include a process for doing careful argument analysis and a few examples of careful argument analysis. The example arguments are taken from Kreeft and Tacelli's case for the resurrection of Jesus in Chapter 8 of their Handbook of Christian Apologetics. Specifically, I will demonstrate careful argument analysis of three objections that Kreeft and Tacelli raise against the Swoon Theory.
Here is a link to the DRAFT of my Powerpoint presentation on "How to Do Careful Argument Analysis":
https://thinkingcriticallyabout.podbean.com/e/how-to-do-careful-argument-analysis-draft/
This is a summary of my process of argument analysis that I demonstrate in the presentation: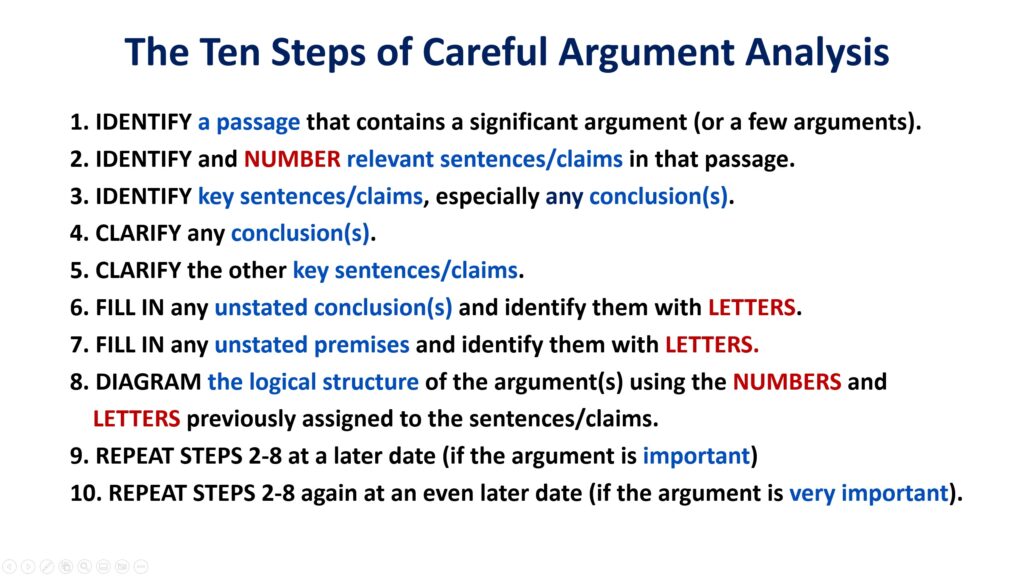 Here is one example of an argument diagram for an Objection against the Swoon Theory by Kreeft and Tacelli: